I'm thrilled that River City Yarns in Edmonton, Alberta, has invited me for some online events in October and November! Check out the seminar and ALL NEW classes below. (Click on the event name for full information and registration.) Hope to see you there!
Saturday Seminar on October 9
This will be a fun chat with me all about knitting tiny toys! I'll also talk about how I make them move in my stop-motion animations and GIFs, and you'll get the inside scoop about what's coming up in Mochimochi Land.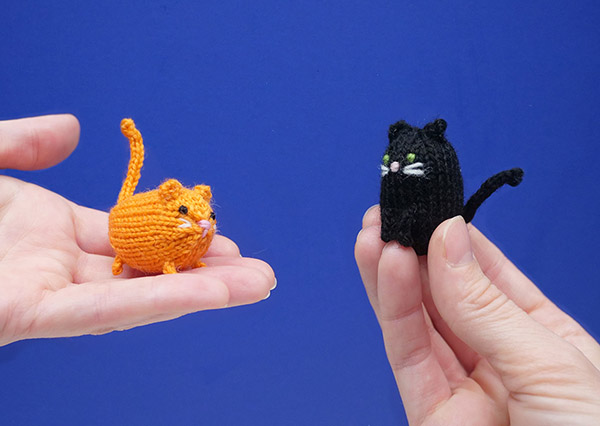 Knit a Tiny Cat! Saturday, Saturday, October 30
In the spirit of Halloween, let's knit tiny cats together! In this class, we'll cover toy knitting techniques like working with a small number of stitches on double-pointed needles, I-cord limbs, and picking up stitches for ears and a tail. You can choose if you'll make a walking cat or a seated cat. We'll also discuss embroidered variations and how to customize your cat by breed.
Tiny Gingerbread Friends, Saturday, November 20
Get an early start on your holiday knitting with quick, tiny gingerbread friends (also known as Crumbles)! This intermediate project incorporates several toy knitting techniques into a very small package: joining legs into a round on double-pointed needles, picking up stitches, and icing embroidery. The more you make, the faster they go!