It's cozy cat season, and ny newest pattern is all about getting cozy between the pages of a favorite book! Inside Cat will mark your place in the coziest possible way and offer snuggles when it's reading time too. The pattern is now available for FREE as a surprise in the Deep Fall 2023 issue of Knitty!
I designed this project to be advanced-beginner friendly, incorporating I-cord, flat knitting, and a bit of circular knitting. Use whatever yarn you like and corresponding needle size—I used worsted-weight yarn (Tosh Vintage in GG Loves Speckles) and a set of size 5 US (3.75mm) double-pointed needles.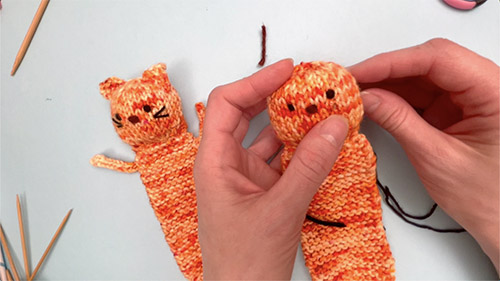 If you could use a little guidance, check out this YouTube video I made demonstrating all the key techniques used in the pattern.
Inside Cat was inspired by my new book, Catside Up, Catside Down, and I think it'll make a sweet gift to accompany the book. In it, cats demonstrate different prepositions, and Inside Cat has a talent for such demonstrations: this stretchy, flat cat can be under, over, around, through, and a great number of other words beyond inside. Show us what preposition positions your Inside Cat is into by tagging your photos #mochimochiland !
This is my FOURTH pattern published in Knitty. (And my second cat pattern! 😸) Knitty means so much to me: early on in my career, Knitty founder Amy Singer exposed me to a community of knitters and encouraged me to pursue designing as a career path. 🥰
Knitty is a wonderful resource, especially as it's free to everyone! And Knitty can also use your support if you are in a position to help keep this wonderful publication going.
Thank you to Amy, to Kate Atherley, and to everybody at Knitty!